Today we play a board game about trains !!! In this case, it is a board game designed for the youngest players in the house. In this version of Ticket to Ride: First Journey, you can claim train routes throughout Europe in the most efficient way possible. It's often not that efficient, but that's part of the fun.
General game information
This is the little brother of the hit game Ticket to Ride. This is a much more streamlined version of the game with far fewer rules. And in this regard it's great, because my kids are still at an age where they aren't ready for many of the board games that I enjoy playing. Even the most basic ones, like the regular Ticket to Ride, are too complex to hold your attention for long. On the route cards they can identify the cities with the pictures on the board, it is good for counting, and best of all… it makes them think.
What is in the box
Being a game optimized for the little ones, there are not many pieces in this game. Which is a very positive point.
The big board is where all the action happens. It has funny and beautiful cartoons that aim to capture the essence of what is touristically in each of the cities. Children are curious and learn about each of these places on the continent by looking at the pictures, they were forced to ask questions about them. Geography education is great when it's fun and they realize that one of our closest and main cities is represented and they can identify where in Europe we live.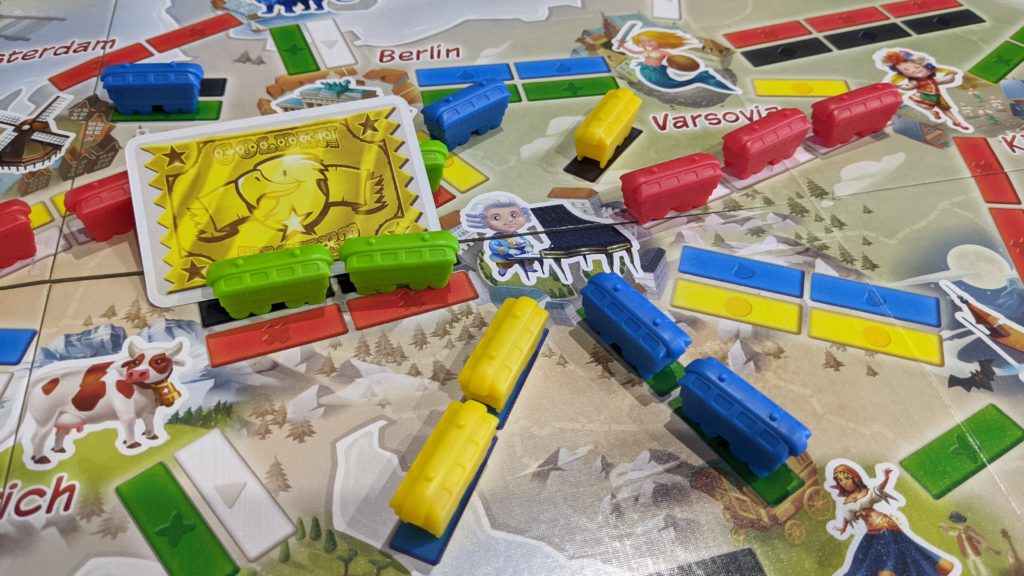 Each player will have a different set of colored trains that they use to place on the board. If I have to fault it, I would have liked these to be a bit more elegant. I love these solid and attractive pieces, but it's a toddler game that does the job so I'm not complaining about it at all. The trains do their job and are nice and thick for easy use by kids.
The other two main components of the game are train cards and inter-destination tickets. Both are roughly the same size as standard playing cards and feature bright, eye-catching colors with some attractive illustrations.
The last two pieces are the east-west (coast-to-coast) bonus tickets and the gold ticket.
Startup
Getting started in this game is as simple as the rest. The board is placed on the table for the children to observe for a few minutes while the decks of trains and tickets are shuffled. These decks are placed anywhere on the board within everyone's reach. Next, everyone collects the trains of the color of their choice and draws 2 ticket cards.
Yes it is. Everything ready to go.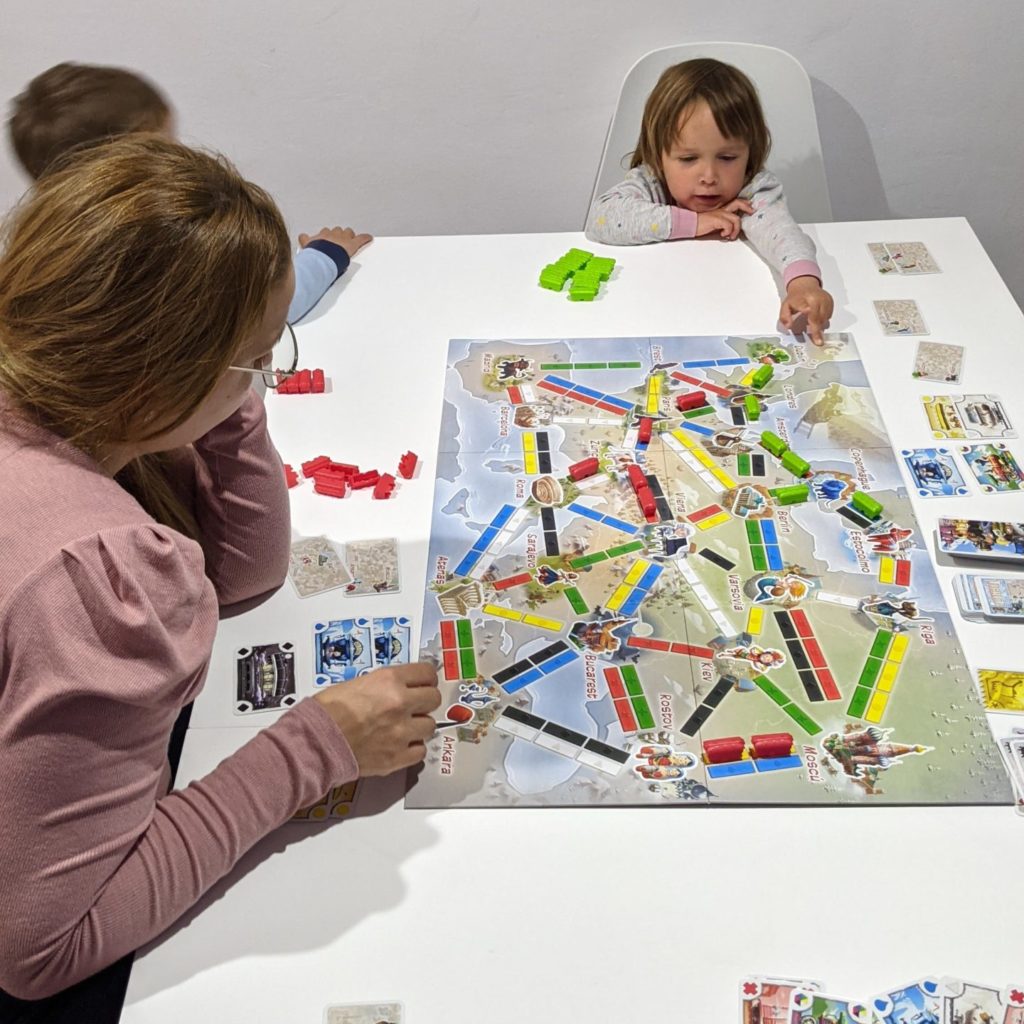 Game mechanics Ticket to Ride: First Journey
Ticket to Ride: First Journey is played much like its older brother Ticket to Ride, only much more simplified. In a player turn, there are only three actions they can perform and only one of them can be performed each turn.
Steal train cards
Claim a route
Discard goal tickets
Steal train cards
These are the cards that will allow you to claim routes on the board. Each of the routes between cities has routes between them with different colors that indicate which colored train cards you will have to discard to claim them. The only special card here is the Engine card. Which is multi-colored and can be used as a wild card when claiming routes.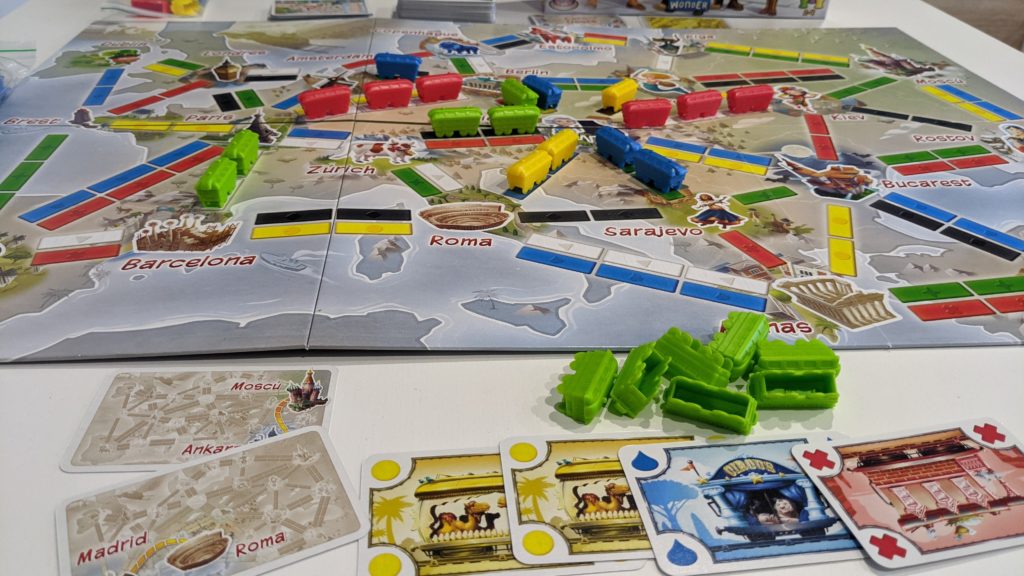 Claim a route
This is done by simply discarding the number of colored train cards that match the route you wish to claim to complete the entire route on one ticket card. The ticket card will only have the two target cities that you must connect to your train routes. You can take any route to connect those two cities. Most connected cities will have two different route options so that multiple people can use the same route, but a player cannot take both routes to block other people.
Discard tickets
There will be times when you have 2 tickets that are impossible to complete because there are no available routes to get to a certain city or the route just doesn't make sense to you and it would take you a long time to claim all the additional routes just to get to a city in the other end of the map. In that case you have the option to pass your turn and discard your two tickets to draw 2 new ones.
To win the game, a player must complete 6 ticket cards with the routes covered. Completing tickets later in the game becomes much easier because you will already have trains running all over the place. Usually it is just a matter of getting an additional route to two to add another city to your train lines.
There is one last bonus that will help you win the game. That's the east-west bonus card. This adds up and adds up to your 6 tickets and you win the game. It is given by having a continuous train line from a coastal city to another coastal city on the other side of the map
Whoever wins gets the prize of the golden ticket !!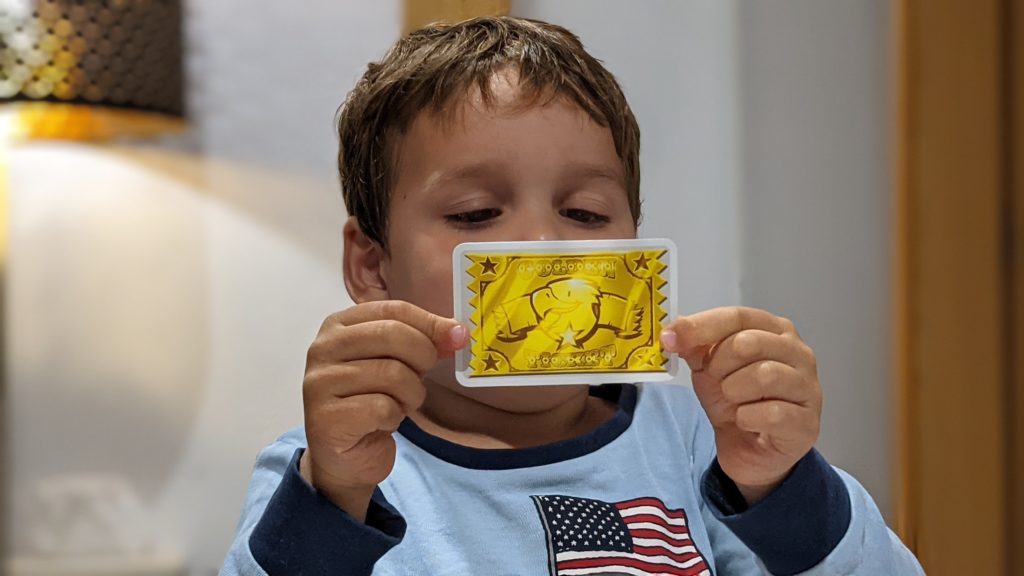 Gaming experience
Complexity – 1/5
Waiting shift – 2/5
Game duration: 3/5
Fun – 3/5
I really like this game for children. Many of the games out there for kids as young as 6 are incredibly boring to play after the first time and make me put my hands in my head when kids ask me to play them. Ticket to Ride: First Journey is not one of those games.
This game requires a bit of strategy and thought to play, but not so much that it is difficult for a 6-year-old to play. Enzo is going to do 5 and he has a blast! The wait for your turn is very short. Which means that nobody gets bored waiting to do something. Well I guess the exception is when Enzo ends up with a bunch of train cards and then spends a few minutes organizing them because he's having more fun collecting cards than winning the game. You may find this more fun and on top of that once the map is completed with most of the trains, there is a nice board.
In any case, this game is a clear top in our house and is played all the time.