It's hard being a parent at times like these. It means a lot of cleaning and being vigilant in killing germs on a daily basis. During this season, when many of us have our children at home, it is also important to learn the best known strategies on how to clean your children's toys effectively. As a parent, I have seen and tried different ways to keep toys and objects that children use most often clean and germ-free. It's a fight, but it's worth it!
Although COVID-19 is a novel virus, experts say we can still use products that the Environmental Protection Agency lists as effective in killing similar viruses, such as rhinovirus or the common cold. And when we stop the spread of germs in our own homes, we are also doing our part to keep our communities healthy.
Sanitization vs disinfection
Before you begin, it is important to know that sanitizing is not the same as disinfecting. The first describes a cleaning method that reduces the number of germs and generally takes less time. The latter is actually killing germs and can take up to 10 minutes anywhere. And it often requires leaving a wet surface for 30 seconds or more while disinfecting.
So what exactly does the coronavirus kill?
Experts are not 100% sure what kills the Coronavirus. But based on similar viruses that have been effectively removed by cleaning products in the past, experts in the field believe that the following products will also kill the Coronavirus:
Bactoclean
Sure Cleaner Disinfectant Spray
Ecodyl
Germ Spray Care Perfect Disinfection
Lactic
Germ Trol Care Perfect Disinfection
Vaprox Hydrogen Peroxide Sterilant
Vaprox 59 Hydrogen Peroxide Sterilant
Rely + On Virkon
Ox-Virin
Sanitas Procsan
Rabbit disinfectant
Lonzagard Dr 25 aN
Sanytol Household and Fabric Disinfectant
Anpiclor 150
Oxivir Plus
Oxivir Plus Spray
Oxivir Plus Jflex
Activ B40 New
Ox-Virin Ready to Use
Cleanpill tablets
Gardobond Additive H7315
Acticide C&D 06
Acticide C&D 04
Acticide C&D 01
Orache Multipurpose Disinfectant Tablets
Oxivir Excel Foam
Oxivir Excel
Ymed forte
Germosan Nor BP1
Biofilmstop Cleaner
Sanosil S010
Multipurpose Green Forest Disinfectant
Deornet Clor
Dybacol LQ
Barbicide
Ambidox 25
Ecomix Pure Disinfectant
Oxa-Bacterdet Plus
DD 4112
Cleaning products can claim to disinfect viruses and bacteria, but not all are equally effective on all types of germs.
DYI disinfectants
Of course, purchasing products is not essential if you are willing to make your own disinfectants at home! Just make sure you are using the correct amounts of water combined with disinfectant, so that the product you make is effective against the death of the Coronavirus.
Currently the hydroalcoholic hand sanitizer gel has been exhausted in supermarkets and with this recipe you can make a homemade antiseptic solution in a very simple, effective and economical way.
INGREDIENTS:
-325 g of 96º alcohol, equivalent to 400 ml
-30 g of hydrogen peroxide (10 or 3% vol), equivalent to 30 ml
-55 g of distilled water that does not have perfume, equivalent to 55 ml
-15 g of liquid glycerin (100% pure, vegetable origin), sold in pharmacies, equivalent to 12 ml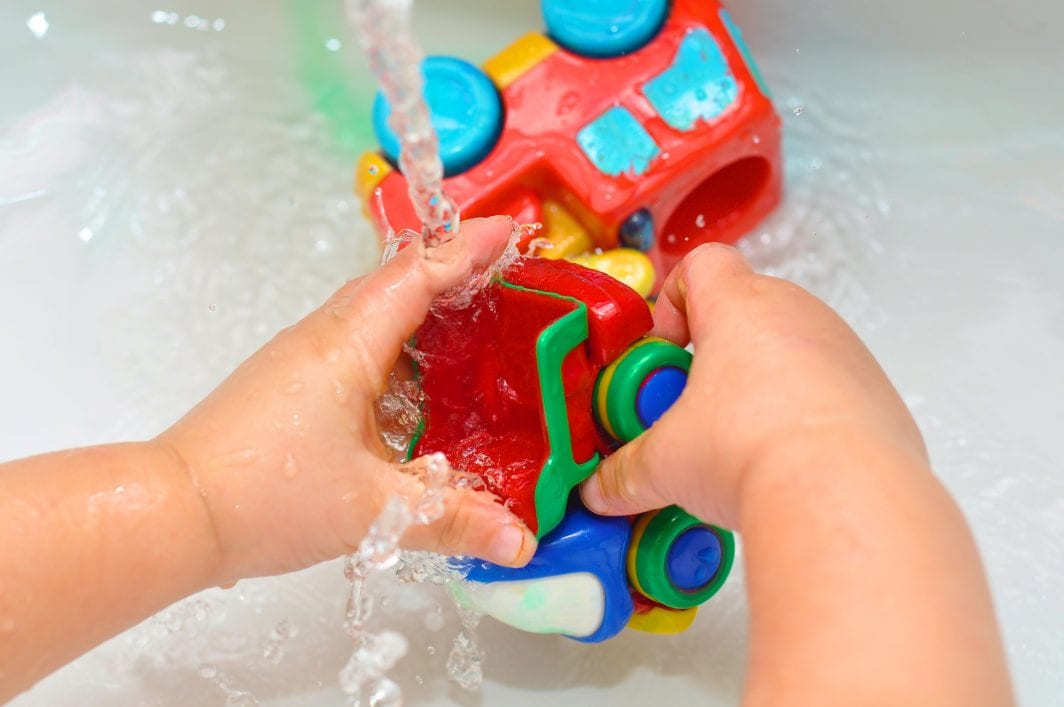 How to clean your children's toys
Hard plastic toys
Here is the best way to sanitize and disinfect hard plastic toys such as: plastic food and kitchen items, legos, blocks, figures, hard plastic dolls, trains, plastic trucks and cars, etc.
Remove dirt and stains by placing the toys in a bucket or tub of hot, soapy water.
Scrub the toys with a brush to remove the debris completely.
Rinse the toys with clean water and air dry.
Rinse and air dry the tub, then refill it with a sanitizing solution. Make sure to read the product instructions regarding how much product to mix in a certain amount of water.
Soak the toys in a disinfectant solution, then rinse and air dry on a clean surface.
Porous and battery-operated toys
Here is the best way to sanitize and sanitize porous and battery operated toys such as: books, stuffed animals, puzzles, wooden blocks, tablets, toddler cell phones, talking dolls, etc.
Clean the toy with a cloth soaked in hot water and try to remove dirt and debris. A toothbrush or scrub brush can help remove hard-to-reach dirt. Rinse the toy and allow it to air dry completely.
Soak a new cloth in disinfectant solution. Make sure to read the product instructions regarding how much product to mix in a certain amount of water.
Clean the toy with the disinfectant cloth and allow the solution to remain on the toy for the time allotted by the product necessary to kill germs.
Wipe the toy with a third cloth soaked in clean water to remove any dirt or disinfectant.
Air dry toys on a clean cloth or surface.
Cleans frequently used hard surfaces
While you're busy working to clean children's toys , don't forget to disinfect the following commonly used surfaces:
Faucet handles
Phones
Remote controls
Door knobs
Kitchen countertops
Tables
Doors to children's rooms
Always use caution when cleaning
Whether you choose to buy a product online or do it yourself at home, be sure to read the instructions carefully. Never mix two different types of cleaners together. Keep children away from cleaning products and make sure your space is well ventilated to protect you and your family from vapors.
As situations and methods can be updated, check out the latest information on COVID-19 by visiting online resources provided by ministries , WHO, and your local department of public health .